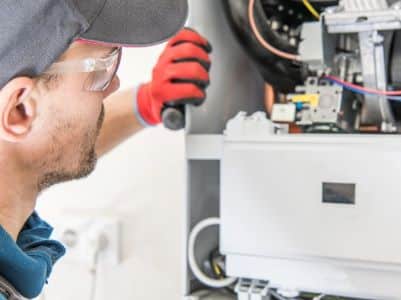 Furnace manufacturers recommend annual furnace inspections. Your warranty may state that damage to your unit caused by improper maintenance isn't covered. Does this mean that an annual furnace check-up is really required, or the warranty is voided? Probably not, but it's recommended.
What Do Annual Furnace Inspections Entail?
When hiring a heating contractor to do a tune-up on your furnace, ask them what they'll be doing. Included below is a list that different furnace manufacturers recommend owners have performed annually by a qualified heating technician:
Check the vent system for blockage or leakage.
Analyze combustion gases and compare to the unit specifications.
Check the blower access door to make sure it has a tight seal at the furnace.
Check the fresh air intake grills and louvers for blockage.
Inspect the heat exchanger for rust and corrosion.
Check the burners for proper ignition, burner flame and flame sense.
Check the drainage system for blockage or leakage.  This includes the hoses internal to the furnace.
Check the blower wheel for debris and clean it if necessary.
Conduct an amp-draw test on the blower motor and compare with what is listed.
Check the wiring for corrosion and damage.
Check the filters.
Do I Really Need To Pay Every Year For A Professional To Do This?
Keep in mind, this isn't just about safety; it's also about preventative maintenance. Catching a problem before your furnace quits working in the middle of the night is less expensive by far than getting an annual checkup. Nordstrom Heating & Air can check your furnace at your convenience. Our professionals can also inspect your heat pump. Contact us today with all your heating and cooling system needs.
Annual Furnace Inspections & Maintenance in Redmond
Serving Marysville, Mukilteo, Monroe, Everett, Lake Stevens, Granite Falls, Stanwood, Arlington, Snohomish, Mill Creek & North Camano Island
---
Posted on January 15, 2022 | Published by Ignite Local | Related Local Business